Download the button assignments document for PTV2.
Email contact: pete@pibus.info
Here you can buy a little circuit board which allows you to plug in an inexpensive DVB-T or DVB-T2 (digital TV) module with MPEG-4 into your old BMW analog tuner box.
It allows you to use the headunit (board monitor) buttons to control the new tuner. It's not quite plug-and-play, but pretty close to it. It can also work on some MG Rover and Landrover vehicles that share the same tuner type (see requirements section).
This conversion uses the original factory BMW antennas. However, cars with bumper aerials (mostly pre-facelift and convertibles) may not get a strong enough signal. For these cars, you can purchase new antennas (see step 1 of installation instructions). Anecdotal evidence suggests this tuner has better signal performance than the original BMW Hybrid tuner, but is still best for stationary viewing.
Total cost of this installation (all parts) is approximately
€140 EURO
inc shipping. A fraction of other OEM controllable DVB-T options.

Out of Stock
---
Radio type required: BM24/BM53/BM54.
NOT suitable for iDrive based vehicles.
Make sure your old analog tuner is the correct type of LEAR or UTLOEWE brand tuner.
Recommended type!

This tuner type is the easiest to convert, because the analogue module inside is removable and the PTV2 board is designed to fit it.

If you're buying a new unit and have a wide screen monitor, make sure you get a 16:9 capable one.
This tuner can also be converted, but is much more difficult. The analogue tuner module inside is soldered down and would need to be carefully de-soldered. You would also need an extra cable to connect the PTV adapter board. It may be easier to buy another AA TV module from ebay. Physical mounting ideas for this tuner type are not given here, it's fully DIY. Link to photos

This is an older 4:3 tuner and can also work, but mounting the PTV board and DVB-T board is more difficult. Link to photos

• Mounting is fully DIY, you have to work this out yourself.
• The analogue module inside can be easily removed by 2 screws.
• It has only 2 mounting holes, instead of the 3 tuner AA has.
• Requires a slightly modified PTV board, please email or leave a message after ordering, so that I can supply you the correct one.
• Compared to tuner AA, it has a 14-pin header, instead of 16-pin.
This is a MOST (iDrive) tuner and NOT compatible with this conversion.

TBD - New DVB-T2/H.265 tuner products coming soon - stay tuned!
---
Decide what type of antennas you will use. In the past, I have recommended to change the F-type antenna jacks to SMB type (the type BMW uses). A photo of the process is here. You may prefer to buy some F-Type-to-SMB adapter cables instead, which gives you better flexibility.
If you have a convertible or older vehicle with "bumper aerials", you should buy some better F-Type antennas, as the factory BMW antennas will be inadequate.
⇒
Remove TV tuner box from car (usually one 8mm bolt).
Open top and bottom covers - there are no screws, it's just press fit.
Remove two torx screws on the side and all screws on the bottom holding in the main circuit board. Leave the two BLUE screws until step 6.

Carefully remove board entirely from the metal frame.
Unplug 16-pin ribbon cable and remove the old tv-tuner module after undoing the two BLUE screws from step 4.

Plug your new DVB-T tuner onto the PTV board and tighten two/four M2 screws or use some other method (cable tie).

Drill new holes for digital tuner's antenna jacks (approximately 8mm diametre). The position is roughly 23mm from the top of the metal frame, but be sure to make your own measurements. The old oval antenna hole can be re-used for a USB cable (see FAQ about USB).

Mount PTV & tuner assembly into LEAR box, by using three M3 standoffs supplied. Plug in ribbon cable.

Wire and solder single IBUS wire to blue plug, pin 3. Use hot glue for safety, as road vibration could dislodge it.


All done, easy eh?

---
In the version 2 board (PTV2) you can use the rotary encoder (dial) to control the tuner. Long-pressing FM enables this feature, and long-pressing FM again disables it. This feature comes with no guarantees, if it is not able to work correctly on your particular vehicle or radio/headunit type, you will have to turn it OFF and operate the system via buttons instead.
Update:
This feature appears to work fine on all E38/E39/E46/E53 style head units tested so far. One cusomter reports it working on a Z4 aswell.
---
I personally don't think an IR remote control is useful in a car, but if you really want to install one, you can. It requires a long 3-wire cable and is connected like below:

---
The board has four settings which can be in one of two states: open or closed. To close one, simply join it by wire, solder or zero ohm resistor.
If in doubt, just leave these all open (default), and connect bit 3 if you are using
Tuner2
, the one with the bigger heatsink.




| | | | | | |
| --- | --- | --- | --- | --- | --- |
| Bit | 4 | 3 | 2 | 1 | 0 |
| Open | 16:9 Override OFF | Tuner2 OFF | AUX OFF | Alternate IR OFF | Rotary Block ON |
| Closed | 16:9 Override ON | Tuner2 ON | AUX ON | Alternate IR ON | Rotary Block OFF |
0.
Rotary Block
: Blocks the rotary encoder from reaching the BMW TV module, to prevent the old blue menu appearing (allows DVB-T control). There should be no reason to join this bit.
1.
Alternate IR
: Use alternative IR codes (some rare tuners need this, such as the Buson DVB-T2 tuner).
Supported by PTV2 boards sent after 16/9/2015.
2.
Aux
: Automatically switch to AUX/CDC/radio stereo audio when entering TV. If you use this feature, you need to turn off the radio before entering TV.
3.
Tuner2
: Use long IR repeat delay and "Yellow" for "Up Folder", as required by Tuner type 2 (MSD7816 based).
4.
16:9 Override
: Attempt to force 4:3 BMW video modules to widescreen 16:9.
Supported by PTV2 boards sent after 15/4/2016.
---
Q: What does the PTV interface board actually do?
A: Translates IBUS button presses to codes the new DVB-T tuner can understand. It also routes the video, sound and power for the module.
Q: Is digital TV good while moving?
A: Only in strong signal areas, otherwise it will break up. It's best while stationary. That is the nature of the technology but this tuner has slightly better performance than the original BMW hybrid tuner. You should consider this conversion best for stationary viewing.
Q: How is tv-in-motion affected?
A: It doesn't change. If you had your TV coded for tv-in-motion before, it stays enabled. Otherwise, you will hear sound only and the picture comes back when you stop the car. In most countries it is illegal to enable tv-in-motion.
Q: Doesn't the BMW TV tuner have mono sound?
A: Yes it's mono and stays mono after the conversion. A forum member is currently working on a conversion to
stereo
, but this is still a work-in-progress. If your car has an AUX input, you could (in theory) wire the stereo output of the DVB-T tuner to this. Nobody has yet tried this.
Q: This tuner has USB, can it be used as a media player?
A: Yes, but keep in mind the media player will also be mono, unless a stereo modification is developed. You can plug-in a motherboard style USB cable (not included, unless you ordered it). These can be bought on Ebay for around $2. There may be better options for media players, such as
PiBUS
.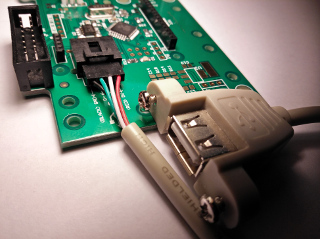 Q: The subtitles keep randomly turning ON, how do I turn them off permanently?
A: Do it in the menu ("SEL" button) and choose Off. You will need to use the RIGHT button to reach the "Off" option: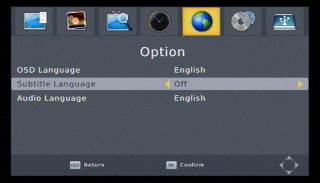 Q: After installing, the picture is black & white, how do I fix it?
A: You need to enter the old BMW analog tuner menu and change the TV-Format. First, long-press "FM" while in TV mode (for longer than 1 second). Then press the rotary dial button, which should open the blue menu. Choose
Set
>
TV-Format
. Change the setting to any PAL country, e.g. United Kingdom, Germany or Australia. Once done, long-press FM again to return to normal.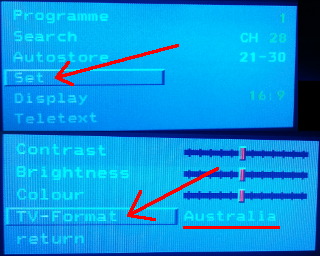 Q: When playing a movie from USB, how can I go to full-screen?
A: Long-press "1" (longer than one second).
Q: After installing I cannot control the tuner with the BMW buttons, what is wrong?
A: Ensure your single wire link to pin 3 is strong and secure. If you're using a DVB-T2 tuner or another alternative tuner, you might need to link
bit 1
. That is, your tuner uses different I.R. codes and your PTV board needs to be set with bit 1, so it can send these different codes.
Q: Can you install it for me?
A: No! There are a few companies that do similar conversions for around €399 / £240. If you have cash to burn, look them up.